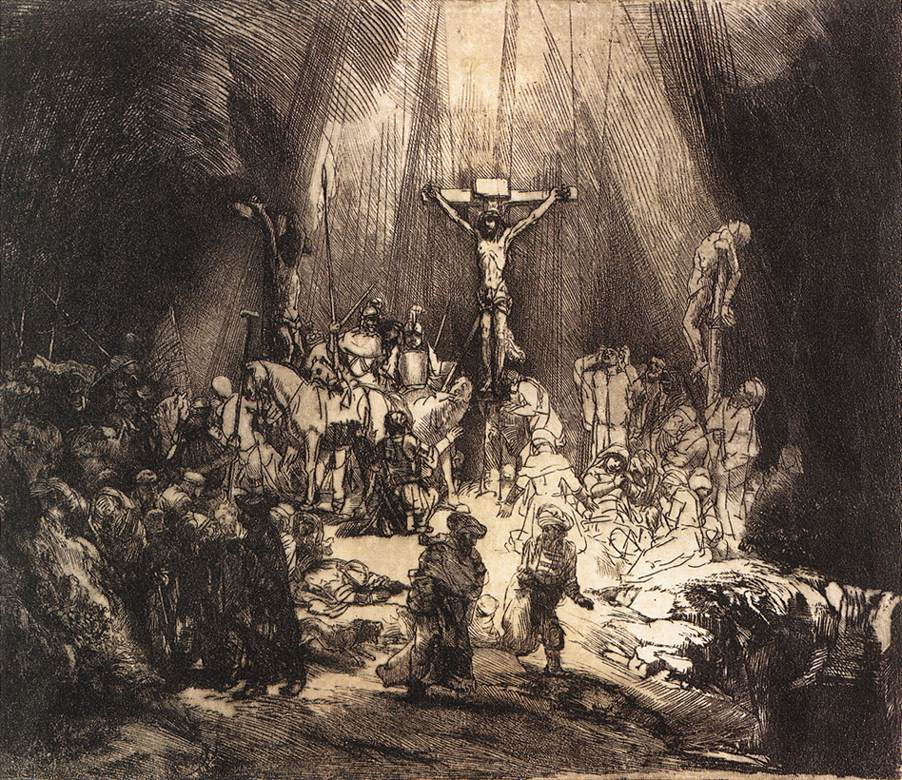 GOD PUT TO DEATH
We're moving on now to "Believe It Or Not – Unusual Stories Of The Bible" the final point – number eight.
I'm just gonna cite the Gospels (Matthew's in particular) as my evidence for the next and most unusual Bible story.
"And when they came to a place called Golgotha, which means Place of a Skull, they gave [Christ] wine to drink mixed with gall; and after tasting it, He was unwilling to drink. And when they had crucified Him, they divided up His garments among themselves by casting lots. And sitting down, they began to keep watch over Him there. And above His head they put up the charge against Him which read, 'This is Jesus the King of the Jews.' At that time two robbers were crucified with Him, one on the right and one on the left. And those passing by were hurling abuse at Him, wagging their heads and saying, 'You who are going to destroy the temple and rebuild it in three days, save Yourself! If You are the Son of God, come down from the cross.' In the same way the chief priests also, along with the scribes and elders, were mocking Him and saying, 'He saved others; He cannot save Himself. He is the King of Israel; let Him now come down from the cross, and we will believe in Him. He trusts in God; let God rescue Him now, if He delights in Him; for He said, "I am the Son of God."' The robbers who had been crucified with Him were also insulting Him with the same words. Now from the sixth hour darkness fell upon all the land until the ninth hour. About the ninth hour Jesus cried our with a loud voice, saying, 'Eli, Eli, Lama Sabachthani?' that is, 'My God, My God, why have You forsaken me?' And some of those who were standing there, when they heard it, began saying, 'This man is calling for Elijah.' Immediately one of them ran, and taking a sponge, he filled it with sour wine and put it on a reed, and gave Him a drink. But the rest of them said, 'Let us see whether Elijah will come to save Him.' And Jesus cried out again with a loud voice, and yielded up His spirit." (Matthew 27:33-50)
AMAZING LOVE!
And it's just like Ripley's Believe It Or Not!
But a whole lot more.
It's beyond – way beyond!- what's considered normal.
It's strange.
It's shocking.
It's beautiful – that God would do such a thing for you and I.
"Greater love has no one than this, that a man lay down His life for His friends." (John 15:13)
Amazing love!
How can it be?
That Thou my God shouldst die for me.
It's the final "Believe It Or Not – Unusual Stories Of The Bible" that I'm talking about.
And along with Christ's resurrection from the dead, it's crazy, but true.
There's a God whose love for us is beyond imagination.
Believe it (in Christ crucified for the forgiveness of sins and receive eternal life) or not.
(I repent and believe.)
"And [Jesus] said them, 'Thus it is written, that the Christ would suffer (on the cross and die) and rise again from the dead the third day, and that repentance for forgiveness of sins would be proclaimed in His name to all the nations, beginning from Jerusalem.'" (Luke 2:47)
"Peter said to them, 'Repent and each of you be baptized in the name of Jesus Christ for the forgiveness of sins; and you will receive the gift of the Holy Spirit.'" (Acts 2:38)
"For by grace you have been saved through faith; and that not of yourselves, it is the gift of God; not as a result of works, so that no one may boast." (Ephesians 2:8-9)
(The Three Crosses by Rembrandt via wikipedia)
You might also be interested in: