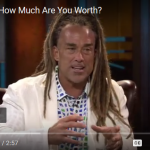 The false teaching comes within the first 30 seconds of this interview.
Todd White: "The value placed on my life was determined by the cost that was paid for me. See the cross isn't just the revelation of my sin. It's the revealing of my value. Something underneath of that sin must have been of great value for Heaven to go bankrupt to get me back."
Huh?
This is narcissistic blasphemy.
God has chosen to save us not due to our worth, but due to His.
"For while we were still helpless, at the right time Christ died for the UNGODLY. For one will hardly die for a righteous man; though perhaps for the good man someone would dare even to die. But God demonstrates His own love toward us, in that while we were yet sinners, Christ died for us." (Romans 5:6-8)
(If you can't see this video, click here.)
Save