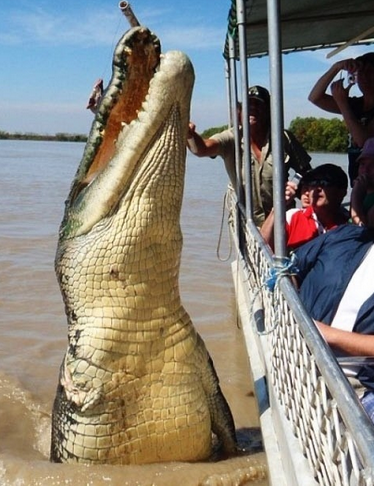 "For such men are false apostles, deceitful workers, disguising themselves as apostles of Christ. No wonder, for even Satan disguises himself as an angel of light. Therefore it is not surprising if his servants also disguise themselves as servants of righteousness, whose end will be according to their deeds." (2 Corinthians 11:13-15)
The devil is the "Photoshop" master. Do you know what I mean by Photoshop? It's that picture program that allows you to do things to pictures, add and subtract, etc, to make them look real when they are not.
At first look at the picture of the alligator and tourist boat, wow! Can you imagine having that happen? One minute you're minding your own business enjoying a lovely day on the river and the next minute you've got Jaws in a crocodile suit about to eat you!
And yet if you look closer, it's not too difficult to tell that the alligator (or boat) was added ~ and it may even be that the alligator was enhanced (made bigger) at least a couple of times?
Getting back to the devil as the "Photoshop" master ~ that's really what I want to talk about here. We are living in the last days of planet earth. The Bible says that during this time, among all the other crazy things that are taking place, there will be a spirit of deception like never before. (Matthew 24:24) Satan will be "Photoshopping" all over the place!
DECEPTION OF UNBELIEVERS
And let me just talk about the deception of unbelievers for a moment, first. If you think all religions lead to God, you are being deceived. Jesus said, "No one comes to the Father, but through me." (John 14:6) If you think a person can be good enough to make it into heaven, you are being deceived. "'There is none righteous, not even one.'" (Romans 3:10) If you think your sins are so awful that God couldn't forgive you, you are being deceived. The blood of Jesus cleanses us from all sin. (1 John 1:7c)
DECEPTION OF "BELIEVERS"
The deception of "believers" is different. (I put "believers" in quotes because ~ are they really?) This deception doesn't come so much from "without" the church, but from within. It comes through prophets, teachers and shepherds whom Satan has "Photoshopped."
And yet if you look closer, it's not too difficult to tell the bad from the good. They have certain characteristics that give them away…
How to Tell a False Prophet:
1. A false prophet can have the ability to do signs and wonders. (Mark 13:22)
2. A false prophet declares out of his own imaginations and not Christ. (Ezekiel 13:2-3)
3. A false prophet can be bought. He speaks pleasantly to those who feed him. (Micah 3:5)
4. A false prophet disguises himself as a believer while all the time he's under the control of the devil. (Matthew 7:15-23)
How to Tell a False Teacher:
1. A false teacher portrays himself as having knowledge when he does not. (1 Timothy 1:7)
2. A false teacher offers contrary doctrine to the Gospel of Jesus Christ. (1 Timothy 6:3-5)
3. A false teacher speaks what people want to hear instead of what people need to hear. (2 Timothy 4:3-4)
4. A false teacher is bound to wickedness, unconverted and destined for destruction. (2 Peter 2:1-3)
How to Tell a False Shepherd:
1. A false shepherd is only concerned for himself and not the flock. (Ezekiel 34:2-3)
2. A false shepherd leads the flock astray in word and deed. (Jeremiah 50:6)
3. A false shepherd abandons the flock when they need him the most. (John 10:12)
4. A false shepherd does not exalt the Good Shepherd. (John 10:14-15)
(The Alligator Photoshop picture file above is a screen capture from Pinterest and it complies with Fair Use policy: click here.)
You might also be interested in: